21.4.2020
Thank you to everyone who responded to the coronavirus survey!
NEWS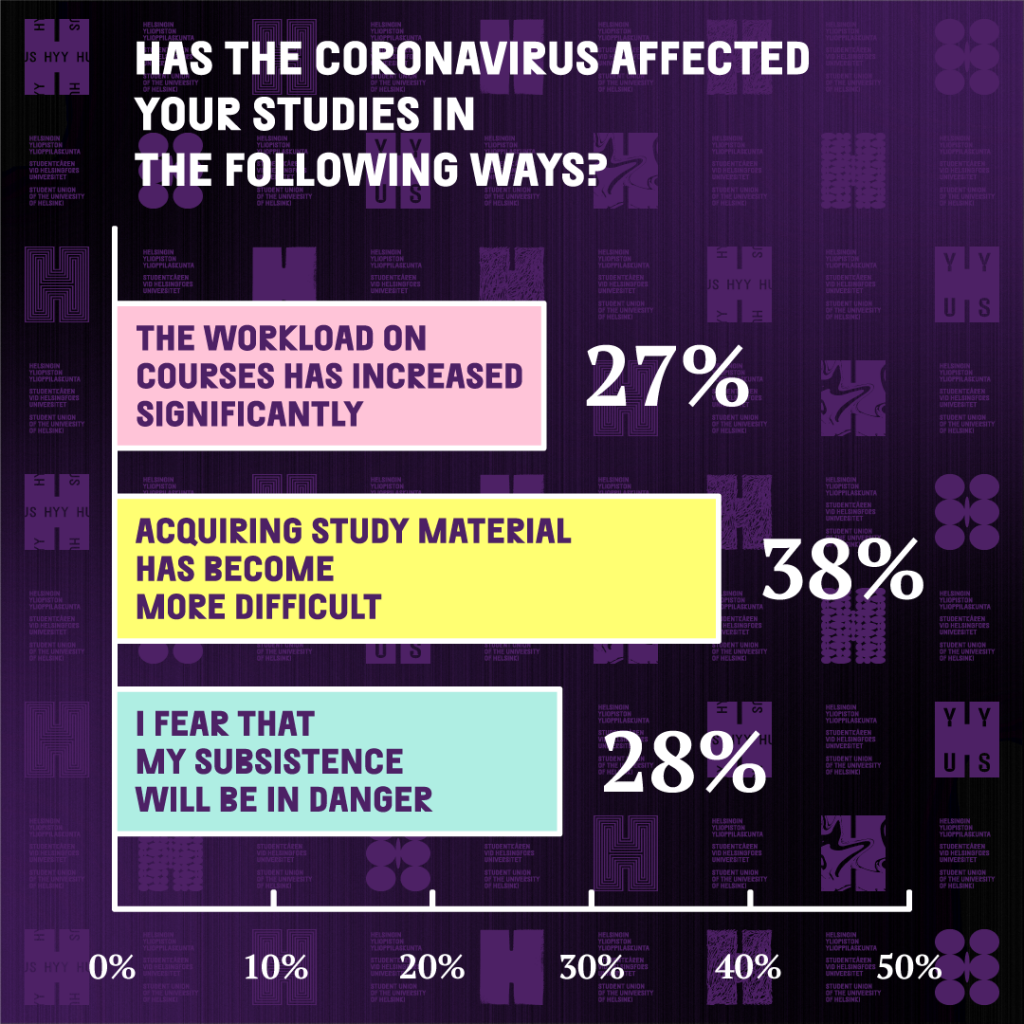 HYY conducted a survey among its members on 26–31 March on the effects the exceptional situation caused by the coronavirus has on studies. We received a whopping 614 responses to the survey – huge thanks to all respondents! The results of the survey provide HYY with an overall picture of the effects the exceptional situation has on studies as well as support us in our advocacy work.
Effects on subsistence, the workload on courses and the availability of study material were especially notable in the results. We have systematically taken the feedback forward, and support and solutions are already available to at least some of the challenges!
Many students feel that the workload on courses has increased along with the move to distance teaching, and this can slow down their study progress. It is also important to remember that, on top of the workload, the stress caused by the exceptional situation is also putting a strain on students. Soon after the exceptional situation began, the University made public instructions on assessing the workload when moving to distance learning. You can read the instructions here: https://teaching.helsinki.fi/en/article/students-workload-and-study-credits
Many of our members are reporting challenges with the availability of study material. Did you know that for the present you can collect the library books you reserve from a self-service pick-up area in Kaisa House? Up-to-date information on this and more is available on the library's website: https://www.helsinki.fi/en/helsinki-university-library/follow-the-news/corona-virus-exceptionals-situation-in-library/customer-service-and-borrowing-books-in-the-exceptional-situation
Worries and uncertainty over subsistence during the exceptional situation was reflected in many responses. Our specialist, Tiia, collected all the information on student benefits that has been confirmed so far in our blog: https://hyy.fi/en/news/the-effects-of-the-coronavirus-pandemic-on-students-subsistence