4.6.2021
Mind over municipal matters
BLOG
Municipal politics have always been something I only have a vague idea of – and I do not think that I am the only one. I started to look into what municipalities do as a whole and what role we young people have in municipal politics. Along the way, I got to chat about municipalities and how their work with the incumbent mayor of Helsinki, Jan Vapaavuori, who even cracked a joke about municipalities at my request!
In municipal elections, voter turnout figures among young people have been slightly embarrassing. In the 2017 municipal elections, 42.5 per cent of people aged 18 years voted, but the figure was only 33.0 per cent for 20-year-olds. Voter turnout grows relatively steadily up to the 57.6% among 42-year-olds and reaches its peak among 73-year-olds, with 76.7 per cent of the age group voting.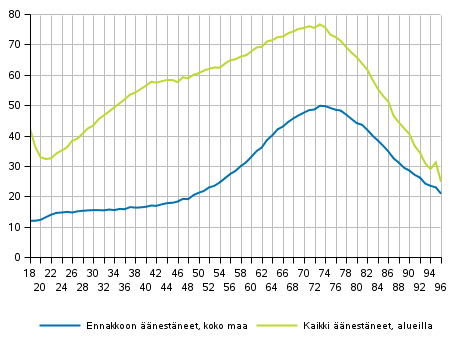 Source: Statistics Finland
What happens when young people do not vote?
The average age of City Council members in Helsinki is 45 years, while the average age of residents in the city is 40 years. It is worrying that young people are not proportionally represented among the people serving in administrative bodies that decide on matters that influence all our lives.
Should young people vote for young people? According to Mayor Vapaavuori, everyone, including older people, should actually vote for young people: 'As a whole, you should not focus on age only, but young candidates are future-oriented.'
You can say that again! We young people have so much to give to the dusty council meetings where experience needs to be supplemented with vision on developing a reforming city.
All hail municipal democracy
In addition to voting, we citizens can also contact council members during the council term or even make resident's initiatives together with other residents. For instance, I would personally be happy to have more facilities for holding flea markets and extensive additional investments in mental health services.
I asked the mayor what kind of resident's initiatives have stuck in his mind over the years. 'Usually, the requests concern everyday life. Rubbish bins, toilets and signs. Things that affect everyday experiences.' The answer took me by surprise but also resonated with me. Summer picnics at the park often need to be planned based on the availability of toilets nearby and the accessibility of the place by public transport or city bike.
Should municipalities listen to residents, organisations and experts more than they currently do? According to the mayor, at least Helsinki has been willing to create diverse opportunities for this. But listening and hearing are naturally two different beasts. 'We must create genuine opportunities to be heard. To ensure functioning democracy, decision-makers must be provided with the opportunity to understand different perspectives. In addition to this, those who do not get involved must be defended in municipalities – they are just as valuable residents as everyone else', the mayor states.
Students have the power
We students are genuinely influential! There are 26,000 students studying at the University of Helsinki alone. The lowest number of votes that got a candidate elected to the Helsinki City Council in the last elections was 457, while 264 votes were enough in Espoo. If the 3,000 students of the Faculty of Educational Sciences, for instance, were to vote in organised fashion, we would get around 6 of our own candidates elected straight to the Helsinki City Council.
There are loads of good candidates, and most of them have been active on social media in these elections. It is thus easy to find the themes and values they aim to focus on. You could also check out which organisations' goals the candidates have signed and what objectives their parties have.
One week to go now – time to make a decision! And it is not that serious if you do not know your candidate's stand on every single trash bin and stretch of road in the city – what matters is the overall picture and that the candidate shares the goals and values that you consider important. Let's give the people who are ready to build us a good place to live in an opportunity to prove their values. Go vote, take your friends with you and do not forget the election coffee and buns.
And then that all-important question: Jan, are there any jokes about municipalities?
'Well, municipalities are not exactly a subgenre of humour… But jokes about Turku always manage to make me laugh.'
Sophie Nyyssönen
HYY's Board (City, World Student Capital, living, students with family)

Sophie Nyyssönen, 28 years
Home district? Kallio
Favourite place in Helsinki? Rajasaari dog park
Studies? Education, UH
Background with HYY?  HYY's Representative Council, 2017–still here
Jan Vapaavuori, 56 years
Home district? Töölö
Favourite place in Helsinki? Stadium Tower
Studies? Law, UH
Background with HYY?  HYY's Representative Council, 1987–1991
Municipalities 101: 
Health: Basic health, mental health, specialised health care
Social services: Subsistence, rehabilitation, child welfare, the elderly, the disabled, social work with intoxicant abusers, youth work
Education: From babies to the elderly – from early childhood education through general upper secondary schools to continuous learning, school transport, morning and afternoon activities, club activities for schoolchildren
Construction: Land use, planning, municipal facilities, municipal infrastructure
Maintenance: Indoor air, streets, waste, water, electricity
Traffic: Traffic planning from walking and cycling to public transport and private car use
Administration: Taxation, strategy, communication, digital services, data protection, statistics, promoting municipal democracy, cooperation with interest groups, organisations, communities and residents
And much more: Including entrepreneurship, employment services, equality, accessibility, internationality, immigration, environmental affairs, adaptation to climate change, sustainable development, security, libraries, art and cultural institutions, events, sports, hobbies, legal protection, promoting wellbeing and social sustainability.
Sources:
https://www.localfinland.fi/
https://www.kotikunta.fi/espoo.php?a=5182
https://www.kotikunta.fi/helsinki.php
https://www2.helsinki.fi/en/faculty-of-educational-sciences/about-the-faculty
https://vaalit.yle.fi/results/kv2017