Map of tables for organisations
The map of tables for organisations is available below. The event area has been divided into four segments: A, B, C and D. The idea is that the organisers and guests of an organisation whose table is located in a specific segment would enter the area through the entrance meant for their own segment. This helps us avoid queues at the entrances. The segments and entrances have been marked on the attached map.
NOTE! Changes are no longer made to the table locations.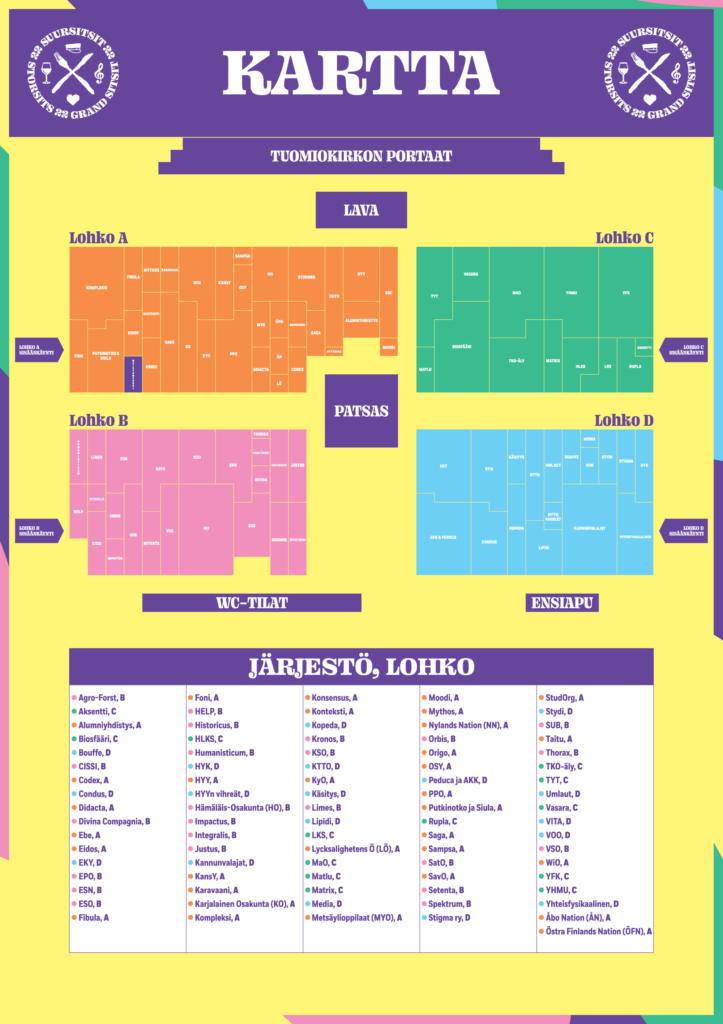 Table preparation in staggered turns
The preparation of tables at the dinner party will take place in two different slots, with staggered arrivals. Half of the organisations should arrive to prepare their table at 3.30 pm and the other half at 4.00 pm. The arrival time for each organisation is listed below. It is important that you arrive at the specified time to avoid queues at the event area.
Alumniyhdistys
Biosfääri
Codex
Condus
Divina
Eidos
EKY
EPO
ESN
HO
Humanisticum
HYK
Impactus
Integralis
Justus
Kannu
KO
Kompleksi
Kronos
Käsitys
Lipidi
LÖ
MaO
Matrix
Media
Moodi
MYO
Mythos
Origo
OSY
PPO
Rupla
Saga
SatO
Setenta
StudOrg
Stydi
TYT
Umlaut
WiO
YFK
Yhteisfysikaalinen
ÖFN

Agro-Forst
AKK & Peduca
Aksentti
Bouffe
CISSI
Didacta
EBE
ESO
Fibula
Foni
Help
Historicus
HLKS
HYY
HYYn vihreät
KansY
Karavaani
Konsensus
Konteksti
Kopeda
KSO
KTTO
KyO
Limes
LKS
Matlu
NN
Orbis
Sampsa
SavO
Siula & Putkinotko
Spektrum
Stigma
SUB
Taitu
Thorax
TKO-äly
Vasara
VITA
VOO
VSO
YHMU
ÅN
Arrival of guests at the Senate Square
We recommend that you instruct your guests to arrive early from 4.30 pm onwards. This is because we will have up to 3,500 people coming to the event. Please remember to clearly inform the guests at your tables about the arrival time and the entrance they should use when arriving.
It is also especially important that you distribute the wristbands that entitle guests to entrance to your guests in advance. The wristband is the only wat to enter the area. Do not distribute the wristbands near the entrances before the dinner party begins, as this may cause queues to form there. You can pick up the shared song printouts for the dinner party at the entrances.
Event schedule
3.30 pm         First half of the organisations arrives for preparations
4.00 pm         Second half of the organisations arrives for preparations
4.30 pm         Arrival of the guests begins
5.00 pm        Dinner party begins, opening words
5.15 pm        Greetings from HYY and OYV (co-delegation of student nations)
5.25 pm         Greetings from the University
5.30 pm        Appetisers*
6.00 pm        Choral performance
6.20 pm        Greetings from the City
6.30 pm        Serving main courses begins*
8.00 pm        Desserts*
8.55 pm        Closing words
9.05 pm        Finlandia
9.15–10.00 pm Dance music: Savolaisen Osakunnan Soitannollinen Seura – SOSSu
10.00 pm      Event ends
* The entries marked with an asterisk are recommendations for the times to start serving the food you may have. You do not have to follow this schedule for serving your food, but it is advisable as it will help you reconcile it with the rest of the programme.
Safety
Everyone can take part in the Grand Sitsit without fear of inappropriate treatment or harassment. Safe space is created in the interaction between people, and each one of us is responsible for this. You can read HYY's principles of safer space here.
The event also has persons in charge of event safety: Linnea Keltanen (050 543 8460) and Mikko Kanervo (044 500 9240). You can contact them by phone.
The security stewards are in charge of general safety. They monitor access to the area and are generally responsible for the event being safe for all of us. Please do not hesitate to contact them during the event.
There are also trained first aid volunteers provided by the Finnish Red Cross in the area. They will be stationed on the south side of the event area.
Important notes for organisations

Dress code: neat, summery (and weather-appropriate) clothing, a student's cap and an organisation ribbon.
There are tables (220 x 67 cm), benches, portable toilets, trash bins and song printouts available at the event area.
The organisations are responsible for keeping their tables clean, and we thus recommend using tablecloths. Also remember to be prepared to wipe your tables after the event so that they will be in a clean condition afterwards, too.
The organisations are also responsible for taking their own trash into the waste containers available at the square.
Smoking is only permitted in the smoking area.
We recommend collecting the dishes by, for instance, passing them from guest to guest. In addition to transporting the food and taking whatever containers you use away, we also recommend giving some thought to the distribution of the food.
Remember that you are responsible for bringing food, drinks, utensils and water for your own guests.
Selling anything in the area is strictly forbidden.
There are several public toilets available on the south side of the event area.
We will be singing singalongs led by masters of ceremonies chosen in advance. It is very much allowed and even desirable to sing your own songs, too, but we ask you to remember your manners and avoid singing your own songs when there are other speeches, performances or singalongs taking place.
We are genuinely exposed to the elements during the event, which means that rain or high wind may cause extra challenges. In case of rain, please favour raincoats (instead of umbrellas)!
There is next to no storage space available except for under the tables. Please look after your items and do not leave your bags or other property unsupervised.
The event is certain to draw the attention of passers-by. Let's work together to give a good impression of academic dinner parties and student culture!
Did you miss out on a place at the Grand Sitsit? Don't worry!
There's still a chance to get a place on the Grand Sitsit! We have collected all the available places of different organisations to one place and you can find them here.
This means that you can choose the organisation whose table you want to sit at. Please note, however, that the prices of the tickets and the number of seats and catering offered by the different organisations may vary. Remember also that if you book a seat at a table of an organisation, you will also sit at that organisation's table at the sitsit.
Organisations that offer free spots:
Teologian Ylioppilaiden Tiedekuntayhdistys